Top 5 most read articles on the Ritchie Bros. blog in 2022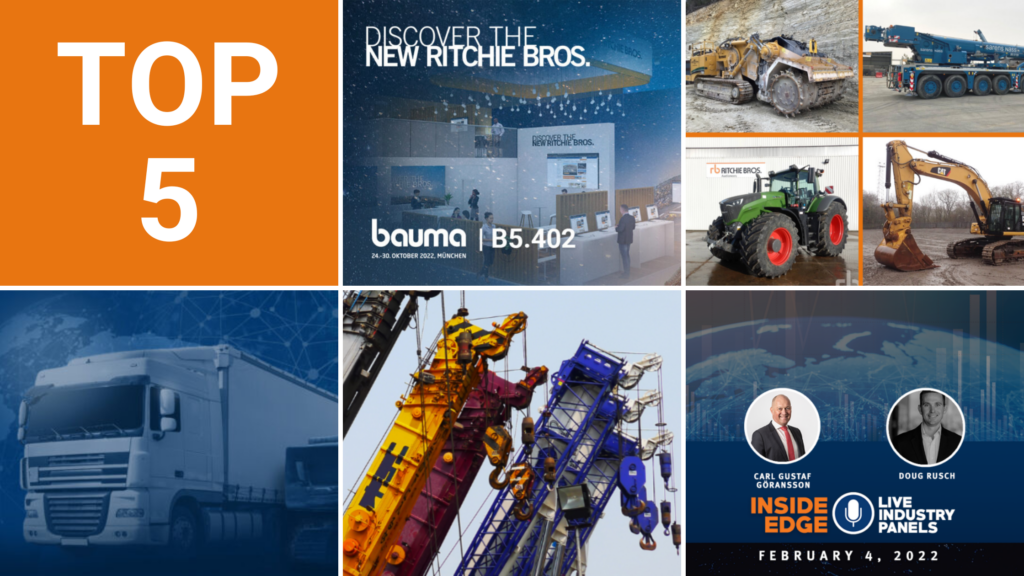 Bauma, market trends and top selling items were among the most popular themes on our blog in 2022
Throughout 2022 we've seen more and more people coming to our blog to read articles and subscribe to receive email updates. In a year that was marked by war, inflation, rising interest rates and a shift in equipment supply and demand, our readers were keen to stay on top of the trends and developments in our industry. We looked at the stories our readers found most interesting in 2022. Let's have a look at the top 5:

Bauma was perhaps the most anticipated trade show for the construction equipment last year. The event took place in Munich in October and exceeded expectations by attracting 495,000 visitors from over 200 countries. Perhaps to no surprise, the most read article on our blog in 2022 (5,000+ reads) was about Ritchie Bros.' participation at the show.

Knowing the numbers is important for industry insiders who wish to make informed decisions when buying and selling equipment. On our blog we regularly post insights about equipment sales. Not only from our unreserved auctions, but also from our Marketplace-E. Our online marketplace for used equipment, which saw 50% growth in 2022, helps businesses maintain full control over the selling process and price. It makes it an increasingly equipment disposition channel to monitor to gauge the market.

The interest in industry insights is affirmed by our blog visitors when we look at the popularity of our Market Trends Reports. What type of equipment was mostly in demand in the last quarter? What items saw a decrease in supply? How is the median pricing and asset aging trending? And what can we expect in terms of price performance in the coming months?
Through its various selling channels (auctions, Mascus, Marketplace-E, etc.), RB has access to a massive amount of data providing such input regarding the European used equipment and truck market, which is sharing with the industry for free in a comprehensive report. Have you subscribed yet?

Cranes are fascinating machines, aren't they? When we posted this article on our blog last year, a lot of readers were interested in catching these highlights. Big cranes we sell at our auctions and Marketplace-E can reach spectacular price levels. Don't have time to read the full article? Let us reveal right now that the most expensive crane sold through Ritchie Bros. from the article was a 2013 Link-Belt 348 Hylab 5 lattice-boom crawler crane, which hit a EUR 803,000 price tag.

Fleet management, digitalization, asset disposition trends and more was discussed at the first European edition of the Ritchie Bros. Inside Edge panel that took place in March last year. The online event featured expert speakers from the equipment rental industry (including International Rental News, Boels Rental, Rouse Analytics and SmartEquip) who had an interesting panel discussion on key market trends moving forward.
We'll be creating a lot more cool and interesting content on our blog. Remember to subscribe to receive the latest articles in your inbox. Let's see what's coming in 2023!