Discover the new Ritchie Bros. at bauma 2022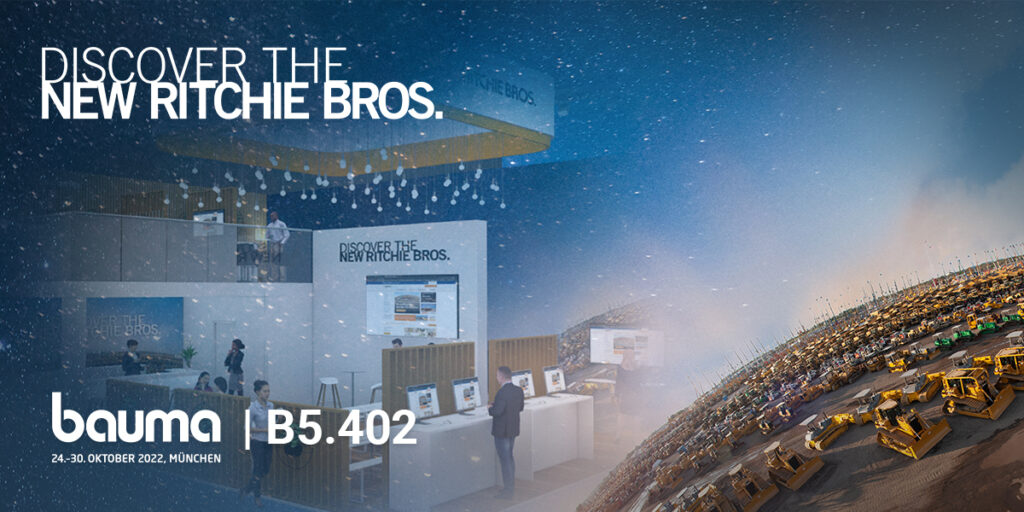 Language: Deutsch | Français | Nederlands | Español | Italiano | Polska
Visit the Ritchie Bros. stand at B5.402
Next to our exciting equipment auctions and online marketplace, we help businesses with market and equipment insights, inventory management software, webshops, financing & leasing, logistics and more. It doesn't matter if your business is big or small, well-established or just starting out, looking to sell or just looking for info & advice. Come and see us at bauma 2022 because everything you need to succeed is at your disposal at Ritchie Bros.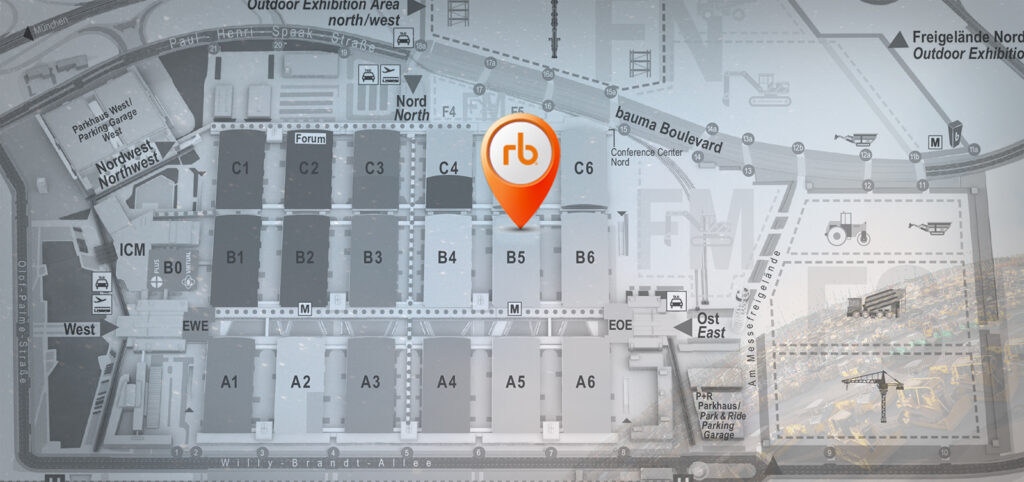 6 reasons to come and see us at bauma
1. Dive deeper into Ritchie Bros.' sales solutions
You may know our state-of-the-art auctions that feature thousands of construction equipment items, trucks, attachments and more. Perhaps you've even joined them, placed bids and purchased equipment. Did you know there are other ways we help businesses buy and sell? Marketplace-E, our online reserved marketplace with Buy Now and Make offer formats is gaining popularity among our customers. Find out why at bauma.
2. Discover Ritchie Bros.' latest insights and fleet management tools
Make equipment management decisions based on accurate and reliable data. We offer powerful tools that help you manage your inventory, discover asset pricing, market trends and other insights. Come and ask us about Ritchie Bros. Asset Solutions, RB Price Result, Market Trend Reports and Rouse Analytics.
3. Unlock powerful lifecycle services that make work easier
During the entire equipment lifecycle, there is a lot to manage. Explore our services that make life a little easier, such as intelligent parts procurement with SmartEquip, our network of equipment yards for storage and disposition, our logistics services, equipment financing and more.
4. Gain new insights at our mini events
During the bauma week we'll be hosting several mini events at the Ritchie Bros. stand. These are free to attend and everyone is welcome. Enjoy a cup of coffee and see product demo's and live panel discussions with experts from Ritchie Bros. and our industry.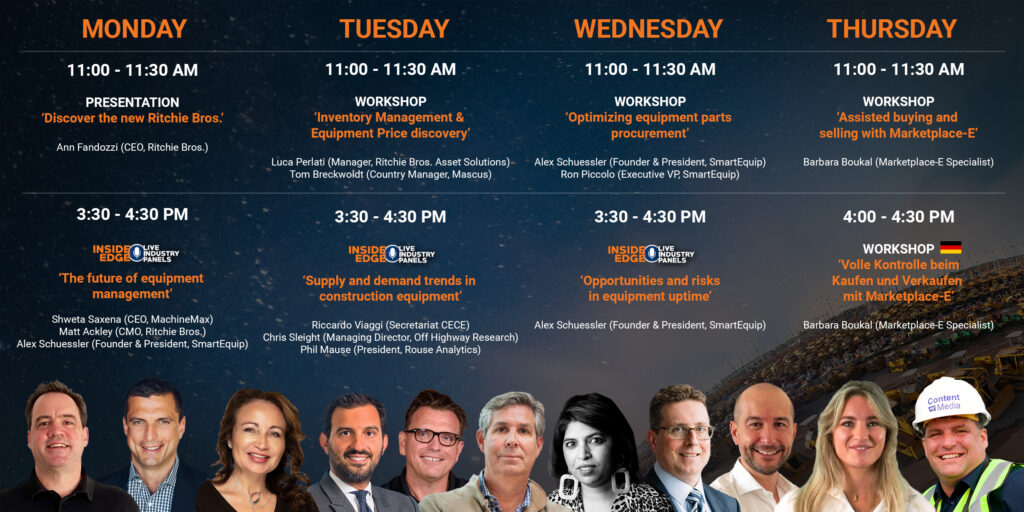 5. Get the latest on Mascus
Mascus (a Ritchie Bros. company) is Europe's leading online equipment listing ads website with 3 million buyer visits every month and over 6000 equipment sellers. It's a huge source to buy equipment from private sellers and renowned dealers. If you want to sell equipment by yourself, this is the platform to do it. Learn all about Mascus dealers, end users and more who are using it to their advantage.
6. Catch up with your Ritchie Bros. representative
We'd love to see you drop by at our stand. We can imagine it will be a busy week for you, so if you would like to set up a meeting with us in advance, simply fill in our meeting request form (recommended).
Catch the latest articles on our blog
We'll be posting several updates and articles about bauma over the coming weeks. Follow our socials and blog to stay up to date on the latest.