Watch: Ritchie Bros.' Inside Edge panel with construction industry experts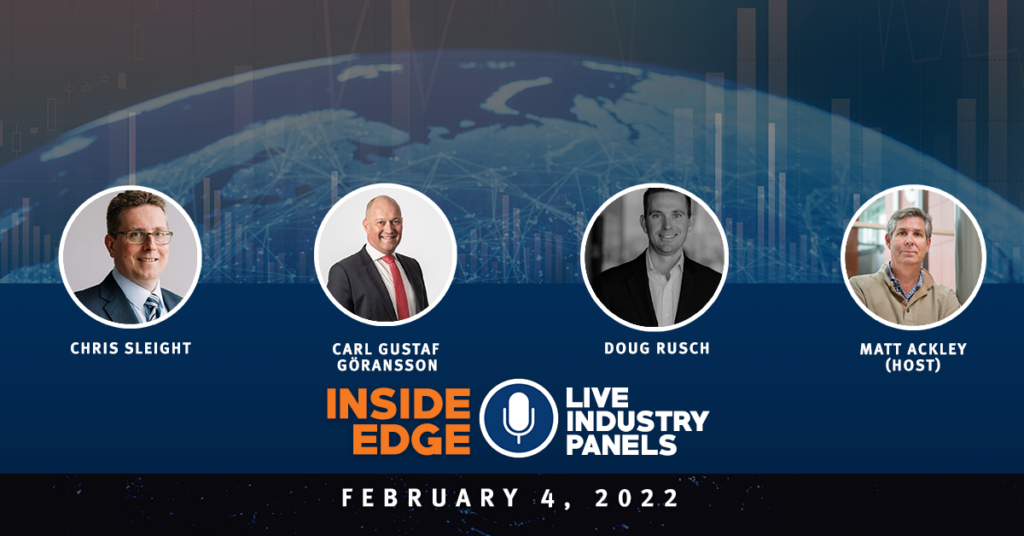 On February 4, our online Inside Edge panel returned with a lively discussion on the ins and outs of the construction industry. The experts on the panel discussed global trends from 2021 and the outlook for the market in 2022. Matt Ackley, Ritchie Bros. Chief Marketing Officer and panel host, was joined by guests:
Chris Sleight, Managing Director of

Off-Highway Research

Carl Gustaf Göransson, a seasoned leader in the global construction equipment industry
Doug Rusch, Managing Director of

Rouse Services
Markets across the globe continue to be affected by the Covid pandemic, but there's a renewed sense of optimism. After a dip in equipment sales in 2020 due to Covid-19, 2021 was back on track. Or was it?
In 2021 everybody felt the supply chain issues, the shipping issues, but that is against the backdrop that 2021 almost certainly being a record year for new construction equipment sales around the world.

Chris Sleight, Off-Highway Research
Off-Highway's research concluded that OEMs and dealers could have sold 10-20% more if only they had the machines in stock.
Shift in construction equipment products
An interesting trend that our experts noted is the rise of compact machines (particularly machinery up to 6 metric tons), which has continued to grow steadily for several years. While demand has been influenced primarily by established markets, such as North America and Europe, upcoming markets and rental companies have started to adopt these machines as well. A primary driver has been the residential construction boom across the globe, especially in response to work-from-home scenarios adopted during the pandemic.
Equipment pricing trends
Another notable trend was pricing, particularly for used equipment sales. The past couple of years have seen increased prices due to the pandemic-related slowdown in early 2020 and the restart of major construction projects in mid-2020 through 2021 as economies started to recover.
Learn about recent pricing trends in Europe
During the Covid period, we saw rental businesses and dealers aging-out their fleets. This meant older machines were sold in the marketplace.
The driver of this trend was the inability to replace. You got to use them if you're a contractor or drive rental revenue if you're a rental company.

Doug Rusch, Rouse Services
What to expect in 2022
Equipment rental companies are expected to see more inroads in several major global markets. Some companies are currently hesitant to tie up their capital with investments in new machines. There might even be a generational preference, with younger business owners and contractors attracted to renting rather than owning.
Other trends to watch out for throughout 2022 include electrification of equipment, particularly compact machines; digitalization and connectivity of equipment; and whether equipment supply-chain constraints are eased.
Discover more top trends for 2022