WATCH: Online panel discussion with rental industry experts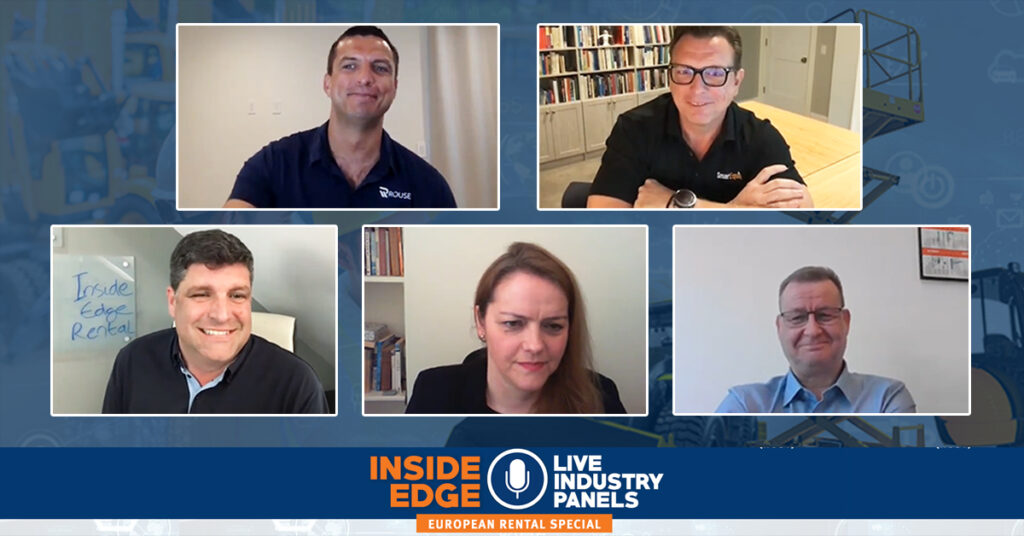 On March 24, 2022, the first European edition of the Ritchie Bros. online Inside Edge panel debuted with a special program about the impact of modernizing rental fleet management. Our speakers shared expertise from many corners of the industry and discussed ongoing digitalization trends affecting rental companies today. Peter Haddock, a construction industry influencer and journalist from the UK, hosted the panel and was joined by four rental experts:
Belinda Smart, Editor at International Rental News
Guy Cremer, Chief Procurement Officer at Boels Rental
Alex Schuessler, Founder and President International at SmartEquip
Phil Mause, Managing Director at Rouse Analytics
Watch the panel recording here
New online solutions and tech development
Over the past few years, particularly during the pandemic, digitalization has become a pivotal trend for rental companies. Online, on-demand services – which were popular "nice-to-have" options before Covid-19 – have become defining, "must-have" solutions for decision-makers and customers alike.
In fact, digital services like custom apps have increased dramatically and telematics solutions for fleet management have gained popularity in the industry.
And the digitalization trend shows no signs of slowing down. Companies have embraced the development, finding opportunities to refine overall business management, including streamlining data, gaining efficiencies, and meeting sustainability goals.
Gaining efficiencies through technology
For any company, regardless of industry, a key driver is finding efficiencies. The rental industry is no exception, particularly when it comes to fleet availability and machine up-time. Today, companies of all sizes now have the opportunity to access software and data that were once typically accessible only to larger firms.
We're seeing that the ability to share information across platforms and with customers is the starting point for realizing and gaining efficiencies.
When we think about the 'democratization' of technology, we now think of subscribing to services instead of needing to host or rent an application. This allows even the smallest of companies to access technology that was previously only available to large businesses.

Alex Schuessler, SmartEquip
Sharing data and making those insights relevant to different spaces throughout the industry to companies of all levels is essential for improving the rental market's value proposition.
There's an enormous opportunity for small and mid-sized companies of Europe to better leverage data and insights to understand these problems.

Phil Mause, Rouse Services
Digitalization and preparing for the future
Adopting digitalization technologies and integrating data insights into business decisions will continue to grow as an important driver for the rental industry. Real-time information that companies can use to improve operational and transactional costs no longer requires massive data management systems. The playing field has become substantially more level over the past few years, and small to mid-sized companies are ready to reap the benefits.
Right now the supply chain is the most critical part, both for new rental machines and parts. Where we normally look at half a year delivery of new equipment it can easily be one year now. Prices of suppliers, spare parts and labor are going up, so my recommendation for 2022 is to look very carefully at the operational cost.

Guy Cremer, Chief Procurement Officer, Boels Rental
As we move into 2022 and beyond, rental companies should keep an eye on the ongoing supply chain and delivery delays, while maximizing the value of existing assets. Integrating technologies that can help fleet managers increase machine up-time, strategically deploy equipment, and determine how workflow drives operational efficiency will have a big impact on your bottom line.
Learn more about the panelists and their companies
Visit Boels Rental (check out this cool video Boels recently created)
Visit International Rental News
Visit Rouse Services
Visit SmartEquip