SPOTLIGHT: 6 Key facts about used JCB heavy machinery

From a small British family company created by Joseph Cyril Branford in 1945, JCB – which got its name from the founder's initials – became a worldwide famous brand. JCB never stopped developing and innovating its range of heavy equipment. The brand is particularly well-known for its loader backhoes and telescopic forklifts. This new article looks at the trends of this OEM's equipment on Ritchie Bros. selling channels over the last few years.
1. Particularly strong in construction and lift & access
JCB produces equipment for a range of industries, making it a highly versatile brand. And as Ritchie Bros. sells all sorts of equipment, we see a wide range of JCB equipment going through our auctions, marketplace and listing websites. Of course, many people love to search our inventories for JCB's famous Fastrac tractors. However, the most sold are JCB's construction and lift & access categories. Combined, these two categories represent more than 97% of all the 4,300 JCB heavy equipment sold over the last 5 years.
2. Harder to find used JCBs on the market
Ritchie Bros. is one of the world's largest marketplaces for used equipment. The total volume of used JCB machines sold at Ritchie Bros. is high, yet we noticed that the volume sold in Europe has decreased over recent years. In 2021, for example, the volume of sold JCB units dropped by 10.8%. This is very similar to other major brands, such as Volvo CE, that we studied in an earlier blog article. Some equipment categories' volumes decreased even more; for example, the loader backhoes' volume dropped by 49% in 2021.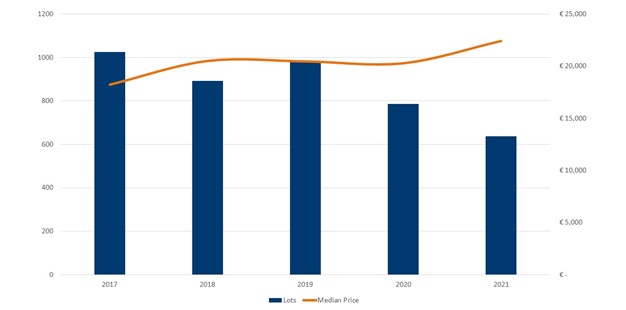 3. JCB telescopic forklifts lead the way
Which JCB equipment types do you think we sold most of at Ritchie Bros.? Loader backhoes? You almost guessed right! They are certainly in the top 3, but the leading category sold at Ritchie Bros. in Europe is the telescopic forklift, representing no less than 43% of all used JCB equipment. The runner-up category is loader backhoes (12%), followed by mini excavators (8%).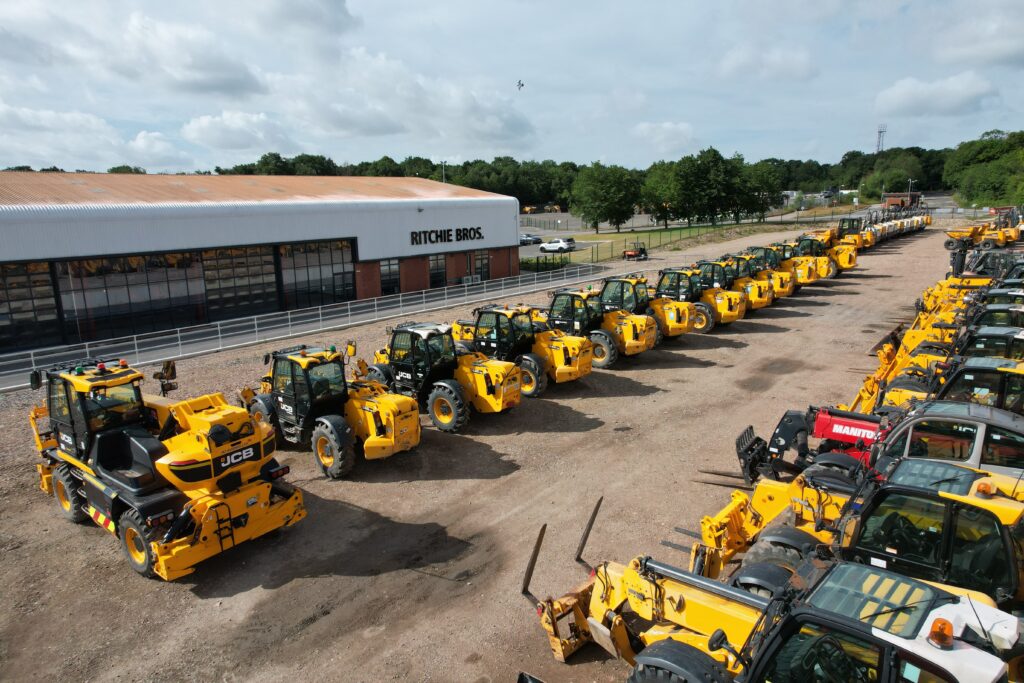 4. Used JCB equipment got a little bit more expensive
According to our website data analytics, JCB telescopic forklifts were one of the most demanded equipment categories in 2021. The well-sought-after brand represented 32% of all telescopic forklifts sold at our European auctions and marketplace. Over the last 5 years, more than 1,500 JCB telescopic forklifts were sold, and their median price grew by 23%.
Loader backhoes are another category dominated by the JCB brand, representing 44% of all units sold on Ritchie Bros. selling channels in Europe. And again, the median price of JCB units rose by 9%. Interestingly, the median age of loader backhoes also increased from 10 to 13 years between 2017 and 2021, demonstrating that people are willing to pay more for quality machines from the brands they love and trust.
JCB comes in the third spot for mini excavators, with 11% of all volume of this category of equipment, following brands Yanmar and Kubota. Over 700 JCB mini excavators were sold across Ritchie Bros. sales channels over the last 5 years. In Europe, the volume of JCB mini excavators has decreased since 2017, but we saw a bounce in 2022 while the median price increased to +14% between 2020 and 2021.

Like this article?
Click here and subscribe to our blog.
5. Strong brand preference in the UK
One of the strengths of Ritchie Bros. is attracting qualified buyers from all over the world. Where the buyers come from depends on many factors, including make, model, specs, and distance the machine needs to travel. Some countries seem to have stronger brand preferences than others. JCB has a strong brand reputation all over the world, but there is one country that stands out. At our auctions and marketplace, the leading buyer country of JCB equipment is the United Kingdom. Although Polish and Spanish buyers are just a little behind.
6. The most popular JCB equipment sold
Checking our Marketplace-E and online auction inventories, we found the latest and most expensive JCB equipment models sold in 2022:
In February 2022, a JCB 48Z-1 mini excavator from 2018 was sold for €33,000 at our Moerdijk auction in the Netherlands
In spring, we successfully sold a 2016 JCB 3CX loader backhoe for €57,776 on Marketplace-E.
Finally, returning to the top JCB equipment category, we sold in September a JCB 5.5-21R Roto from 2019 at our online auction in Maltby (UK) for £92,000 to a lucky Polish bidder.

Check Ritchie Bros. marketplace and inventories to find your next JCB equipment.
Want to read more about our SPOTLIGHT article series? Learn how a tight supply of wheeled excavators raises pricing by 16%