SPOTLIGHT: COMPACT EXCAVATORS IN DEMAND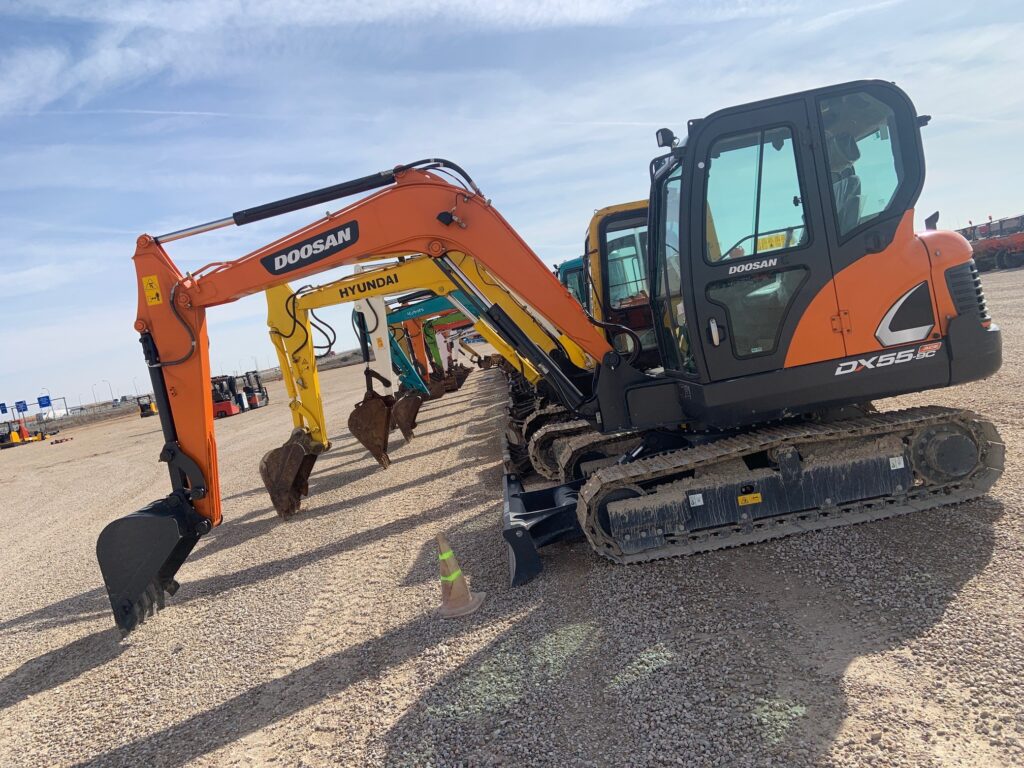 Over the last few decades, more people have been moving to cities and urban areas are growing faster than ever before. This trend doesn't seem to be slowing down and it has a direct impact on the construction equipment industry. Since the early 2000s, compact construction equipment (under 6 metric tons) has been steadily gaining popularity every year. Leading the charge are mini excavators, which have become a vital piece of machinery for contractors and rental companies of all types and sizes. In this month's SPOTLIGHT article, we're diving into the latest trends and developments in compact equipment.
Mini diggers on the rise
Mini excavators are broadly used for their capabilities of working in tight spaces at a low operational cost and high efficiency. These machines are great for landscaping, trenching, precise excavation in urban areas, and – with the right attachments – they can be used for indoor demolition, material handling, and much more. Compact excavators, usually ranging between 1 to 5 metric tons, are arguably the most popular in the excavator family. Approximately 75,000 new mini excavators were sold in Europe in 2021 alone, of which more than 55% were purchased by rental companies.
Besides portability and maneuverability, modern fleet owners are also looking for low emission machines that are reliable, safe, and easy to operate. Fully electric compact excavators are no longer a novelty. Some European cities have introduced zero emission construction projects, exclusively allowing electric compact equipment on the urban job site.
OEMs continue to meet the needs of the market with impressive new models of mini excavators. In 2021, CAT released the new 305 CR, which delivers a nearly 9 percent increase in performance over the previous year's model. This 5-ton excavator offers a lot of power, yet it is compact enough to work in tight spots. Another exciting release came from Wacker Neuson with its fully electric, low noise EZ17E mini excavator. The lithium battery in this digger provides enough energy for an entire work day and can be charged at any power source – including household sockets. And let's not forget Volvo's ECR50-F, a reliable zero-tail-swing machine that makes it easier to dig close to obstacles without damaging the machine. In the words of the manufacturer, it's a "rent-ready all-rounder."
Availability on the used market
Compact excavators are popular machines on the used market and are relatively easy to find. Over the last five years, more than 8,800 mini and midi excavators were sold through Ritchie Bros.' European auctions and online marketplace alone. However, the availability of mini (1–5 ton) and midi (5–10 ton) excavators decreased by 21% in 2021. This reflects the fact that European rental companies – that regularly sell used compact equipment with us – had extremely high utilization rates and held on to their excavators in 2021 instead of buying new models.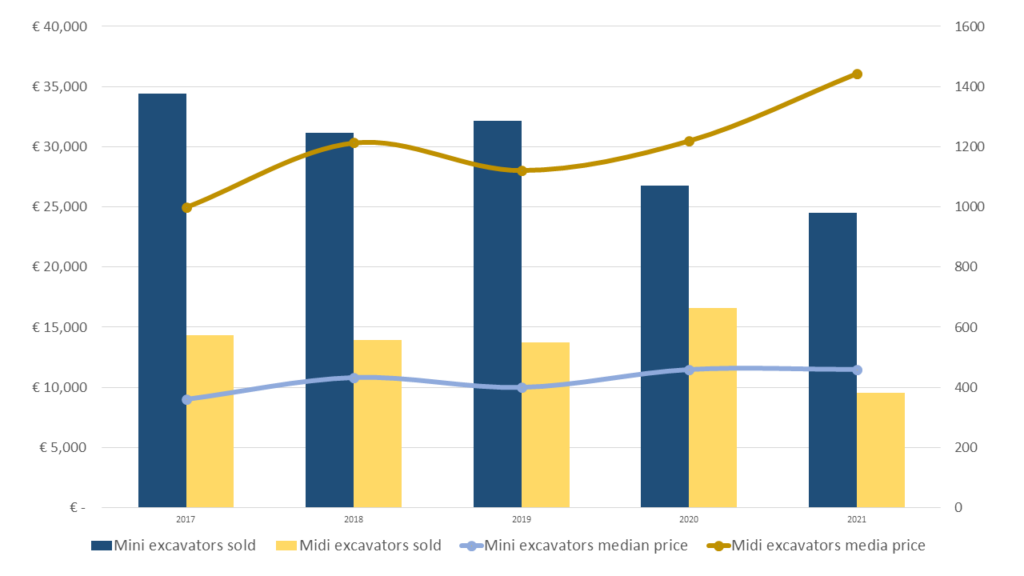 The list of the most frequently sold mini excavator brands purchased through Ritchie Bros. in Europe is dominated by Kubota, Takeuchi, and Bobcat. However, rising in the ranks are popular brands JCB, Caterpillar, Yanmar, and Hitachi.
Number of bids per sold mini excavator increased by 17%
Despite a dip in availability in 2021, mini excavators continued to attract strong demand and buyer competition at our auctions and online marketplace. The average mini excavator received a whopping 49 bids – representing a 17% increase – before being sold to the highest bidder. Price performance held up as well with a median price of EUR 11,500 (see above graph). Interestingly, midi excavators outperformed minis in 2021 by a landslide with median prices increasing by nearly 30%.
Up to 2020, buyer demand was particularly strong from the UK and Italy. But since 2021, we've seen more appetite for mini excavators coming from France and Germany. Both countries have big infrastructure and urban development projects underway, which could be catalysts for demand surges in the used equipment market.
Top midi excavators sold in 2021

The mini and midi excavator categories – together with other compact construction equipment products – are expected to grow steadily over the coming years. New machines will feature low emission or electric engines, greater horsepower, smarter technology, and innovative operational efficiencies that will make it easier for the operator and more profitable for the owner. We can't wait to see the amazing products entering the market over the coming years. And on the used equipment market, international buyers will always be eager to buy their favorite brand and model of mini and midi excavators.
Do you manage a fleet of mini excavators or other equipment items? You might be interested in the following:
Ritchie Bros. Asset Solutions
A web-based, mobile friendly software tool that empowers you to track assets with real-time market valuations, get inspection and appraisal services, and easily workflow equipment and truck inventory to multiple disposition channels with a simple click. Learn more