8 top tips for making the most of bauma 2022

The world's construction industry heads to Munich, Germany, in just a few days for Bauma 2022, and for those attending, planning is key. The show is the largest of its kind in the world, so be sure to give plenty of thought to who and what you want to see when you're there. Also, take some time to absorb the sights and sounds of Munich – one of Europe's most beautiful cities. Here we offer some valuable tips on how to make the most of your trip to the Messe München.
1. Stay full and hydrated
It is harder to concentrate on business when you are hungry or thirsty. And with over 3000 exhibitors in attendance from over 58 countries, you must make sure you take regular meal and snack breaks. Inside the conference, there are many restaurants to choose from on the second floor of Messe München, as well as a wide variety of cafes and snack bars on the first floor. There will also be regional and international options in the outdoor exhibition area. And once you are headed home after a jam-packed day, make the most of Munich, the city of German beer and some of the best foods to accompany your stein.
2. Wear comfortable shoes
It's no exaggeration when we tell you that bauma is huge, with thousands of exhibitors and hall after hall of industry-leading conferences, displays, and talks. There is over 200,000 sqm of hall space and over 400,000 sqm of outdoor exhibition space. This means there is going to be a lot of walking – and no concerns over reaching your 10,000-step daily goal! Wear comfy shoes – this isn't the time for high heels or office shoes – with so much on offer to explore over such a vast space.
3. Create the best bauma schedule for you
As ever, the Liebherr stand will serve as a bauma landmark, unmissable from just about anywhere at the show. The company is in its usual position, on Stand FM.810 in the outdoor area. Other industry giants worth a visit include Komatsu on Stand C6.233, Hyundai Construction Equipment on Stand FM.813A, and Wirtgen Group on Stand FS.1111. Be sure to pay a visit to Ritchie Bros. too, on Stand B5.402. We will run a host of informative and entertaining sessions over the week, where attendees can learn about the latest technologies and tools to optimise equipment fleet management.
Find the full Bauma 2022 Exhibitors directory here.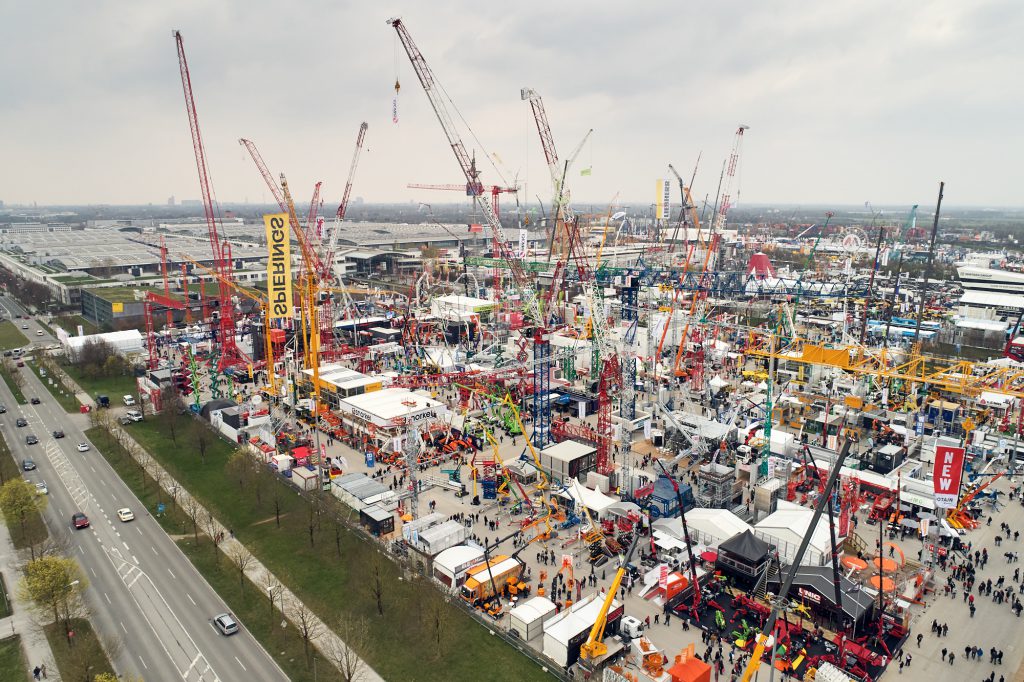 4. Download the bauma app
With so much to explore, and even with a well-planned schedule, it can be hard to find what you are looking for. A perfect way to find exhibitors and products and remind yourself of the full program is through the bauma app. This can be downloaded for free on Android and iOS and will make your event navigation a lot simpler.
5. Make connections
As you make your way around bauma 2022, remember that this is the prime place to build and revisit industry connections. Make sure that you have up-to-date business cards printed, and bring loads! After all, giving one to each stand would equal over 3000! But in all seriousness, when you are meeting people or reconnecting after the last few years, be sure to share your business cards. And we would love for you to come and connect with us on stand B5.402.

Like this article?
Click here and subscribe to our blog.
6. Plan in some work time
We know what it's like. You take the week out and travel to Munich and come back to your desk a week later with a mountain of emails backed up, which makes it hard to reflect and act on the event itself. bauma has great Wi-Fi throughout the venue and many spots that you can use to sit and catch up on emails, and there are even bookable private meeting lounges for any calls that you just can't miss. As explained in the bauma welcome guide, you can connect any device to messeWIFI and follow the instructions for free access.
7. Check out the key topics
Sometimes, planning your schedule for an exhibition of this size can be daunting. A great way of ensuring you are seeing the right balance of exhibitors, talks, and events is to plan in line with the key topics for the year:
Construction methods and materials of tomorrow
The way to autonomous machines
Mining – sustainable, efficient, reliable
Digital construction site
The way to zero-emission
8. Stay safe throughout your visit
As we come out the other side of the pandemic, it's important to remember that being in a crowd this large will be a shock to the system for many. It may be your first large-scale show in a couple of years. There are no restrictions on visiting bauma 2022, and it's, therefore, your choice whether you would feel more comfortable wearing a mask and maintaining a minimum distance. After all, the goal is to see the show from beginning to end, as there is a lot of amazing content on offer.