SPOTLIGHT: Low-emission telehandlers are the future and used prices are up 11%

Compact excavators, skid steer loaders, dumpers. The world is investing in the growth of its cities and this urbanization has resulted in the growth of compact, versatile machinery. At Ritchie Bros., we often see clear trends in the types of equipment people are looking for and how much they're willing to spend. Website search results reveal that our customers are eager to buy compact equipment. Telehandlers have always been popular, but they're now one of the leading categories in buyer demand across all machine types. In this Spotlight article, we look at the latest trends for these multi-use machines.
Telescopic forklifts are used (and admired) across many industries, including construction, material handling, lifting, and agriculture. Combining several abilities such as lifting heavy loads and accessing rooftops or other elevated areas, their versatility makes telehandlers a perfect fit for many jobs. The many different attachments (buckets, rotators, booms, grabbers) that are available for them proves this point. They're produced by many brands and one of the most popular machines to own or rent.
Exciting innovations for new telehandlers
Telehandlers are one of those equipment categories that regularly see interesting new innovations and upgrades. Popular manufacturer Manitou recently launched two new ultra-compact rough-terrain telehandler models, the ULM 412H and ULM 415H, powered by Stage 5 Yanmar engines with lift capacities between 1,250kg and 1,500kg at a lift height of 4.3m. These machines are incredibly small and maneuverable, coming in at 1.49m in width and 1.92m in height.
Premium brand JLG announced three new rotating models with the R1370, R1385, and R11100 – the latter being the highest reaching telehandler JLG has ever put in the market. JLG managed to make an already versatile machine even better by combining three capabilities in one: a traditional telehandler, a mobile elevating work platform, and a rough terrain crane.
There are also interesting product developments for rental companies and users looking for more sustainable telehandler options. Several brands have introduced exciting low-emission models that can get the job done. For example, JCB showed their new hydrogen-powered telehandler prototype at COP26 in Glasgow (Scotland), which is expected to have its first deliveries by the end of 2022. Earlier this year, manufacturer Snorkel delivered four all-electric SR626E telehandlers to German rental company Gerken. The SR626E is an entirely emission free and low noise machine, and its battery pack allows continuous operation for up to six hours.
The used market for telehandlers
High utilization and new equipment supply-chain disruptions made it less likely for telehandler owners to replace their machines in 2021. At Ritchie Bros., we've seen a drop in volume as fewer telehandlers came available for sale. Over the last five years, companies sold more than 4,800 telehandlers with us in Europe, with 750 sold in 2021 – a 25% decrease compared to 2020. Despite lower availability, the second-hand market of telehandlers was booming in 2021, with more buyers interested in purchasing recent model second-hand machines.
The most popular brands
The most wanted telehandler brands at Ritchie Bros. are JCB and MANITOU which, combined, represent 68% of all telehandlers sold in Europe. Particularly, JCB models with 12,5 meter reach or more were highly sought-after machines in 2021. Other popular brands include MERLO, DIECI, and CATERPILLAR.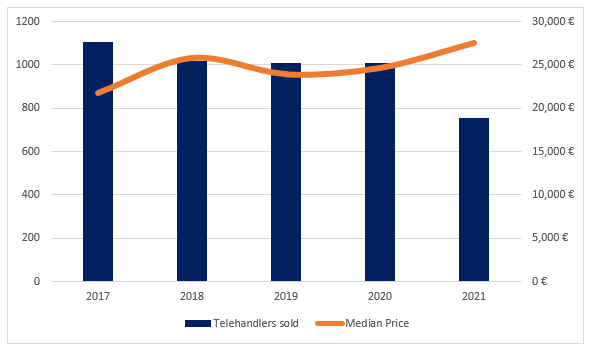 Telehandlers in use longer before being sold
Since 2019, companies have been using their telescopic handlers for longer before selling them at Ritchie Bros. auctions and marketplace. And as of the end of 2020, we've seen more older models appear in our inventories. While the median age did not exceed 10.5 years up to that point, the median age of a sold telehandler grew to approximately 12 years in 2021.
Telehandlers attract 35% more bidders
Even with the decreased volume of available telehandlers, Ritchie Bros. auctions and marketplace offer one of the largest inventories of used telehandlers in the world. Buyer interest has rapidly grown between 2020, 2021, and into 2022. In 2021, the average number of bidders per sold telehandler increased by 35% and the median price increased by 11.3%.
Telehandler highlights
An unused Manitou MRT2550 Privilege from 2019 was sold in May 2021, at our Moerdijk auction, for the price of €148,000 (£124,215). For folks in the market looking for a JCB telehandler, one JCB 540-200 from 2017 was sold for €64,340 (£54,000) in November 2021. More recently, a MAGNI RTH5.35S-M/C telehandler from 2015 sold €111,000 (£93,161) at the Moerdijk auction in February 2022.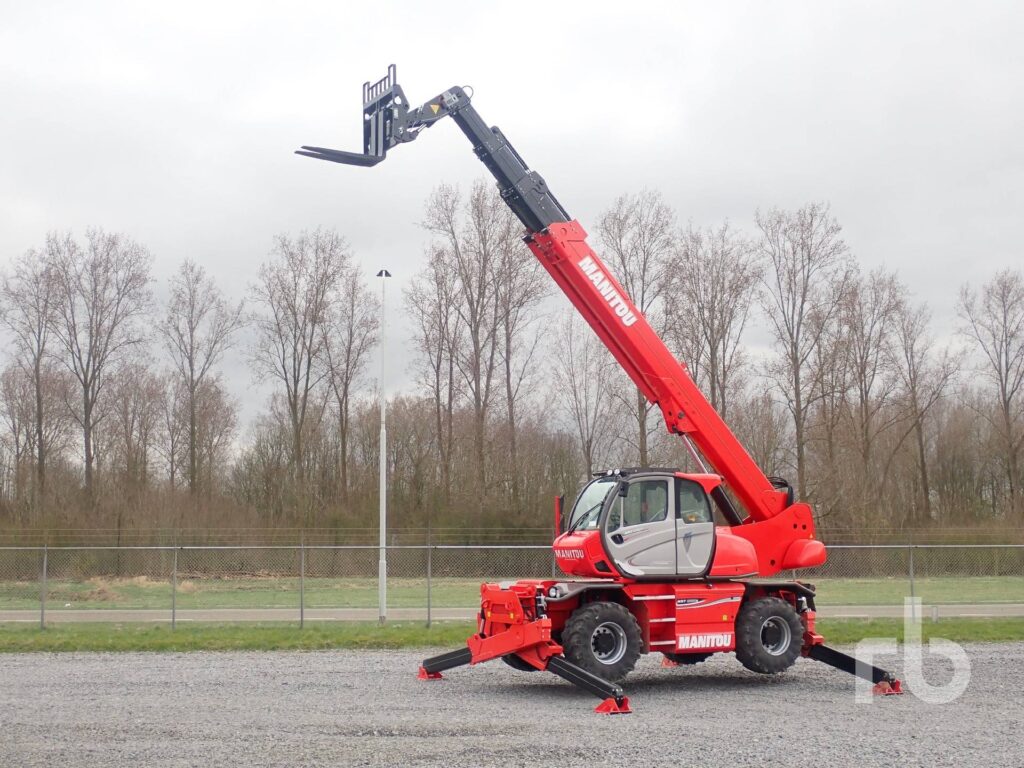 The bottom line
For rental companies and other equipment users that need to replace or add telehandlers in 2022, it's becoming more likely they will look for sustainable options. Whether they decide to go fully electric, hydrogen, or hybrid, most manufacturers currently have exciting, innovative telehandlers on the market. However, as long as delivery times are still impacted, equipment managers may need to resort to temporary solutions, such as renting telehandlers or buying low hour used machines. If they have older models to sell, the odds are in their favor. There's a buoyant buyer market that's willing to pay a high price for a quality, well maintained telescopic forklift.