Learn the Value of Your Equipment: FREE Price Results Tool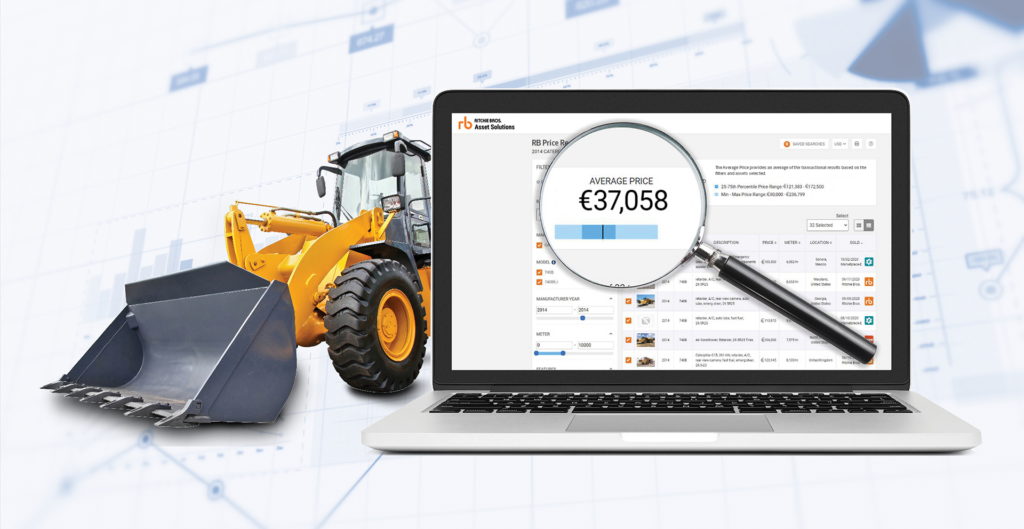 Here at Ritchie Bros., our customers often ask how much items are selling for in the market or how much their equipment is worth if they decide to sell. That's why we've created Ritchie Bros. Price Results. This free, online tool pulls historic pricing information from our global sales channels to help you make the best possible decisions when you're buying or selling machines.
Keep reading to learn how to estimate the price of your equipment in 3 quick and easy steps.
Ever since COVID-19 kicked in, the used heavy equipment market has gone through pretty extreme circumstances. This can make it challenging for business owners and fleet managers to establish the value of their equipment. High demand for quality used equipment combined with current manufacturing shortages are driving pricing increases across most machinery types – so what's a seller to do?
Ritchie Bros. Price Results has got you covered! This free online tool was created to help businesses in our industry determine the value of their used equipment and make better selling decisions. With the tool, anyone can access our extensive database of past and current pricing information from multiple Ritchie Bros. channels – including our online auctions, marketplace, and Mascus listing site.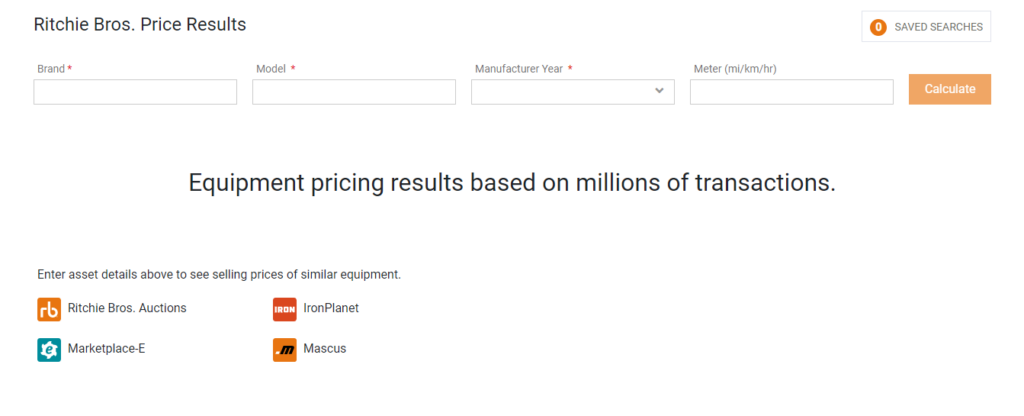 Ready to try it out? It's quick, it's easy…and it's free. Check out the 3 simple steps below to get the information you need to sell your equipment.
Step #1: Enter the information about the equipment you'd like to sell.
Start with typing in the information of the machine you want to sell – brand, model, manufacture year, and meter reading – and click the calculate button. The more details you enter, the more specific the results will be. With fewer details, the Price Results tool will give you a broader range of results.
Step #2: Select one of the disposition methods to learn about price trends for your item.
After clicking the calculate button, our tool takes you to your results page, where you can select the prices you'd like to explore.
Click on the "Sold Listings" tab if you'd like data from sales results from Ritchie Bros. auctions, Marketplace-E, and IronPlanet.
Click on the "Classified Listings" tab if you'd like to find out about retail price trends for direct listings from our popular listing website, Mascus.
Step #3: Adjust the filters to see price performances across a range of options.
The results page also includes a variety of filters that you can apply to narrow your search. They include specific models, year(s) of manufacture, equipment location, meter readings, sales transactions from the last 3 months to the past 2 years, and more. The data is at your fingertips to help you find the best possible price point for your used machines. You can also save your search criteria to get quick results whenever you need them.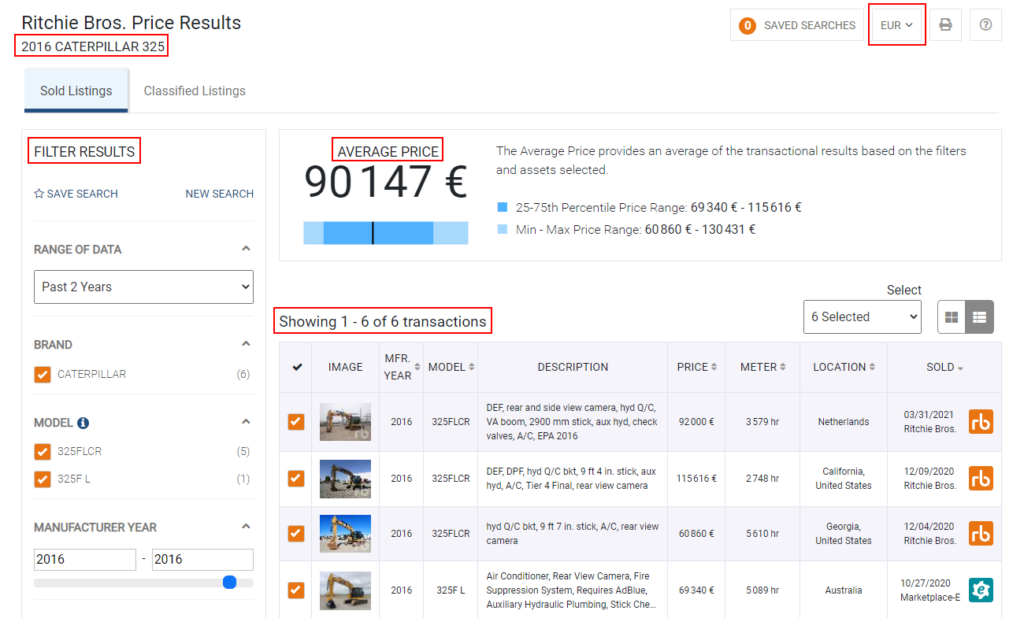 The Price Results tool is the only place where you can get access to sales data from the world's largest used equipment auctions (Ritchie Bros.), an online marketplace (Marketplace-E), and direct listing site (Mascus) combined in one tool.

Johan Lustig, Product Manager, BI and Valuation Services
Wasn't that easy? If you're in the market to sell your used equipment, the Ritchie Bros. Price Results tool is a one-of-a-kind option to help you get started.
Price Results is available in English, French, Italian, German, Dutch, Spanish, Finnish, Swedish, Norwegian, Turkish, Polish, Romanian, Portuguese, and Danish.
Like many of our customers, if you're also interested in a more detailed and tailored selling strategy, contact us, and we'll be happy to discuss your options.