New Market Trends Report reveals 33% price increase for boom lifts

A free report about the latest used equipment supply and demand trends
In our quarterly Market Trends Report, we provide insights on several used equipment market trends in Europe based on equipment transaction data available through Ritchie Bros., the global leader in heavy machinery and industrial vehicles disposition, and Mascus, the leading European online listing service for used heavy equipment.
With this edition, we take a closer look at the volume of machines for sale and the demand registered in the third quarter of 2022 in 4 key construction equipment categories in Europe: crawler excavators, wheel loaders, mini excavators, and boom lifts.
Subscribe to receive this report for free in your inbox and discover the latest trends in the industry.
Below is a sample of the market insights that you will find in this report.
Boom Lifts
Median price of boom lifts sold on Ritchie Bros. sales channels across Europe increased by 33%
The volume of boom lifts sold through Ritchie Bros. in Q3 2022 increased by 22% compared to the previous year. Overall, the median price for boom lifts increased by 33% in connection with a decrease by 2 years in median age versus Q3 2021.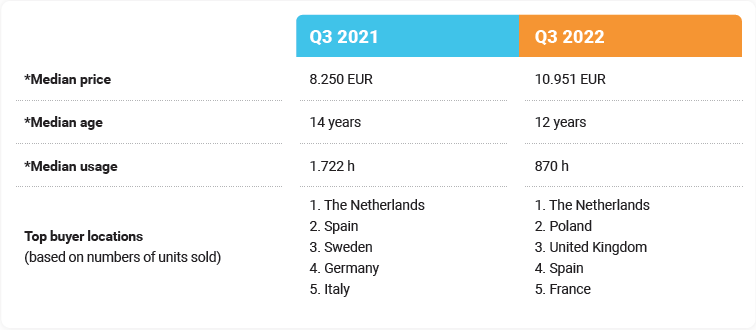 Top-selling brands & buyer locations for boom lifts on Mascus
Only 18% of the machines were purchased locally in the same country, while 73% were sold to buyers from other countries within Europe. The most frequently purchased model was the Genie Z-45/25J (24 units sold for a median price of €31.029 per unit).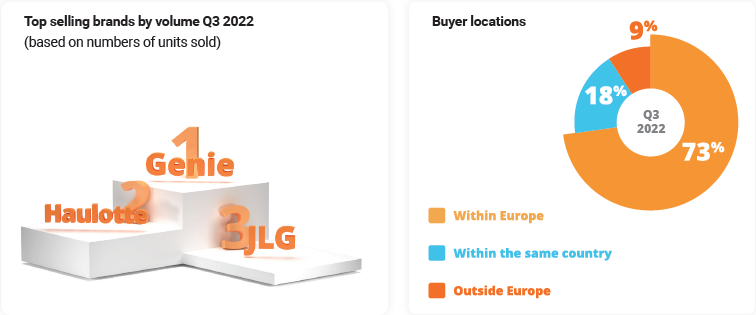 Mini excavators
In Q3, the number of mini excavators listed for sale on Mascus surpassed 5.000, similar to pre-pandemic supply trends. The volume of units for sale in Q3 increased strongly by 47% versus the previous year. At the same time, demand for this type of excavator remained the same in terms of direct calls to sellers, however, email buying requests decreased by 26% compared to Q3 2021.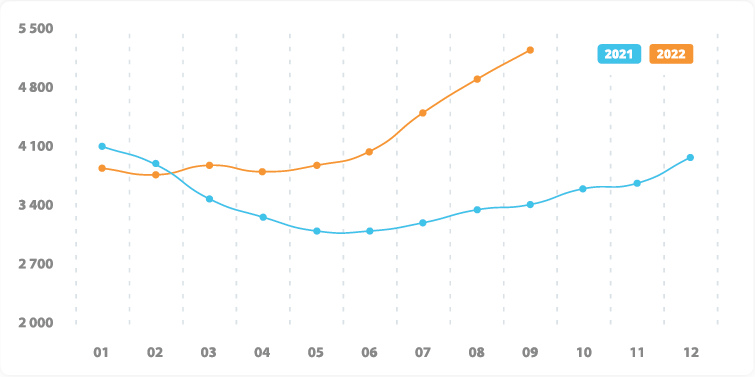 Top 5 – Most wanted brands | Most active purchasing by country
By far, buyers from Germany showed the highest interest in mini excavators, while Kubota was the most popular brand among buyers in Europe.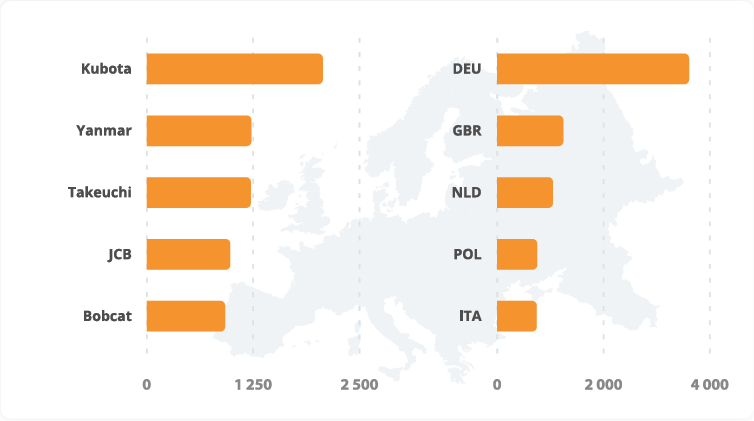 Like this article?
Click here and subscribe to our blog.